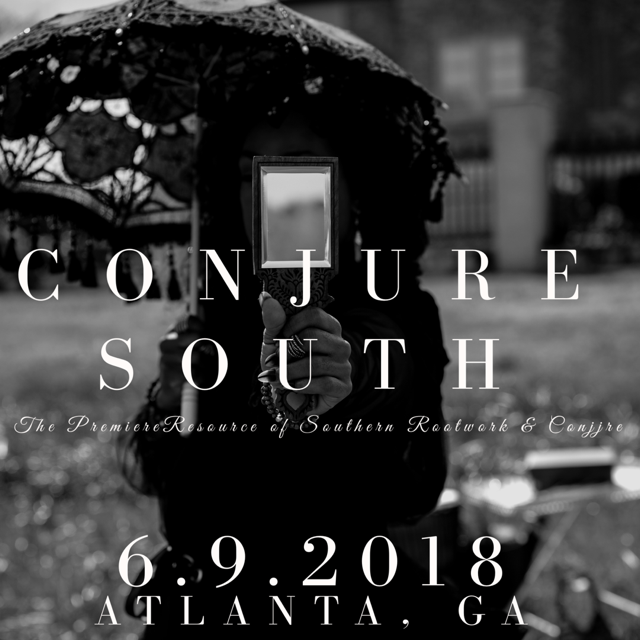 Join us June 9, 2018 in the beautiful Atalanta, Georgia. As we Launch Conjure South "The Hoodoo Grimoire" which is The Premiere Resource of Southern Rootwork and Conjure. Which is an seasonal  online, and physical guide full of guidance and divination, indigenous workings and spells from the origins of these practices and culture and a culture introduction to the African in America.  Beyond that we are excited to announce  our Summer Oracle Art Exhibit. Premiering a set of cards that no one has ever seen before but once in the presence of these cards you will literally take a step back into the early 19th Century.
Enjoy a magical June afternoon with Music, Art, and Magic. Esteemed Spiritual and Holistic Vendors from around US, that you may not know due to how authentic a true they are in their communities and spiritual purpose. Conjure South, promises to introduce you to  authentic and traditional spiritual businesses from around the US. Where there is truth, Mastery is also present.
We will be inviting over 100 of some of the best known Metaphysical, Spiritual and Magical Business from across this Country. Inviting these amazing establishments as a solid networking system to bring awareness to their businesses and services.
C O N J U R E   S O U T H  is The Most Prestige Spiritual Collective
Aminitees with Ticket Purchased:
Music
Passed Hors D'oeuvres
Passed Vegan  Hors D'oeuvres
Summer Oracle Art Exhibit
Spiritual and Holistic Vendors
Discount of Conjure South " The Hoodoo Grimoire"
Live Readings and More!
 Further Details
Location:
Blue Mark Studios
892 Jefferson St NW
Atlanta, GA 30318
TIME:
12NOON EST- 3PM EST
Tickets: $30 online $40 at the door
Click This Link to Purchase Now: